Mark your calendar! HBR always has exciting events coming up!
---
Events in September 2020
Pickering - Petapalooza 2020

Pickering - Petapalooza 2020

On Sept 19, 2020 as part of Responsible Pet Ownership Month, the City of Pickering will host the 9th Annual Petapolooza - Pickering's Outdoor Pet Festival.

Petapolooza brings together pet enthusiasts within our community and gives them an opportunity to meet industry professionals, rescue groups, and others in the pet industry.

Admission
Admission is $5, with free admission for seniors 55+, children under 12, and pets. All proceeds will go towards helping us build a permanent animal shelter.

Last year we were able to raise over $20,000 in admissions, sponsors, exhibitor fees and additional donations all relating to this event. Donations of over $20 are eligible for a tax receipt.

Location - New for 2020!!
Alex Robertson Park, 700 Sandy Beach Road (view Google map). Alex Robertson Park is located south of Bayly and is across from Kinsmen Park. From Liverpool Road, go south to Bayly and turn left (east) and drive until you see Sandy Beach Road. Turn right (south) and drive until you see the park on the right hand side. Parking is in the Kinsmen lot on the left.

Event Lineup
You can expect to see around 1,500 attendees, and over 50 exhibitors and rescue groups. There will be plenty of giveaways including pet bandanas, games, food samples, water stations for your pet, live entertainment for the whole family and more!

A Rabies and Microchip Clinic for dogs will be offered during the event.
---
We believe it's important to do our part to stop the spread of COVID-19 so, while it makes us sad, we have decided to cancel our Canine Carnival 2020. Stay tuned, though, for other interactive and online events coming soon!
Thank you to our fantastic events team, as well as our wonderful volunteers for making previous carnivals a great success!
Volunteer Appreciation Celebration!
At HBR, we truly appreciate our amazing volunteers! Without you, we could not save as many dogs as we do!
We had a terrific time celebrating on a Mexican Fiesta Theme…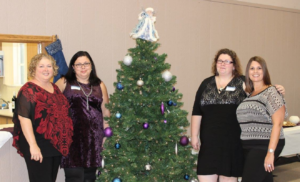 Pictured above, (L to R) Lorelei Downes, Shannon Long, Jana Osbourne, and Tammy Harper at the Homeward Bound Art Auction.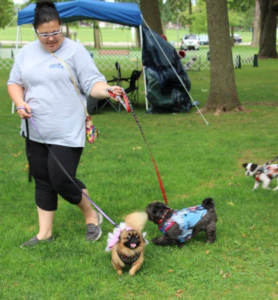 Shannon Long escorts HBR Alum 'Sophie' and brother 'Louis' to the runway for their modelling debut at the First HBR Canine Carnival.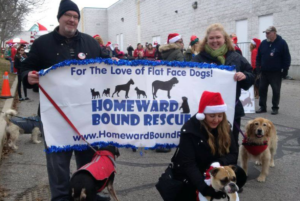 Darren Locke, Lorelei Downes and Tara Colby walked with Lola, Callaway
and HBR's Delcie in the Courtice Santa Claus Parade.
"Who rescued who?" we often ask….
Below, Homeward Bound Rescue alum 'Archie' is picture with his
foster/adoptive mom Michelle Courchaine Jones.  Happy tails Archie!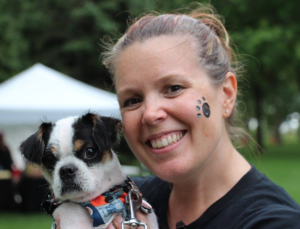 Whether you choose to volunteer, attend, or help out behind the scenes, HBR needs you. Bring your energy, positive attitude, and of course, your love for flat faced dogs.
Homeward Bound Rescue needs YOU!