Welcome to Homeward Bound Rescue! 
We are a small-scale, big-heart, non-profit dog rescue group located all across Ontario
that is completely volunteer-run, foster home based and community funded. 
We specialize in rescuing brachycephalic (flat-faced) dogs such as Bulldogs, Pugs, Boston Terriers, Boxers, French Bulldogs, Mastiffs, Shih Tzus, and American Bulldogs. 
---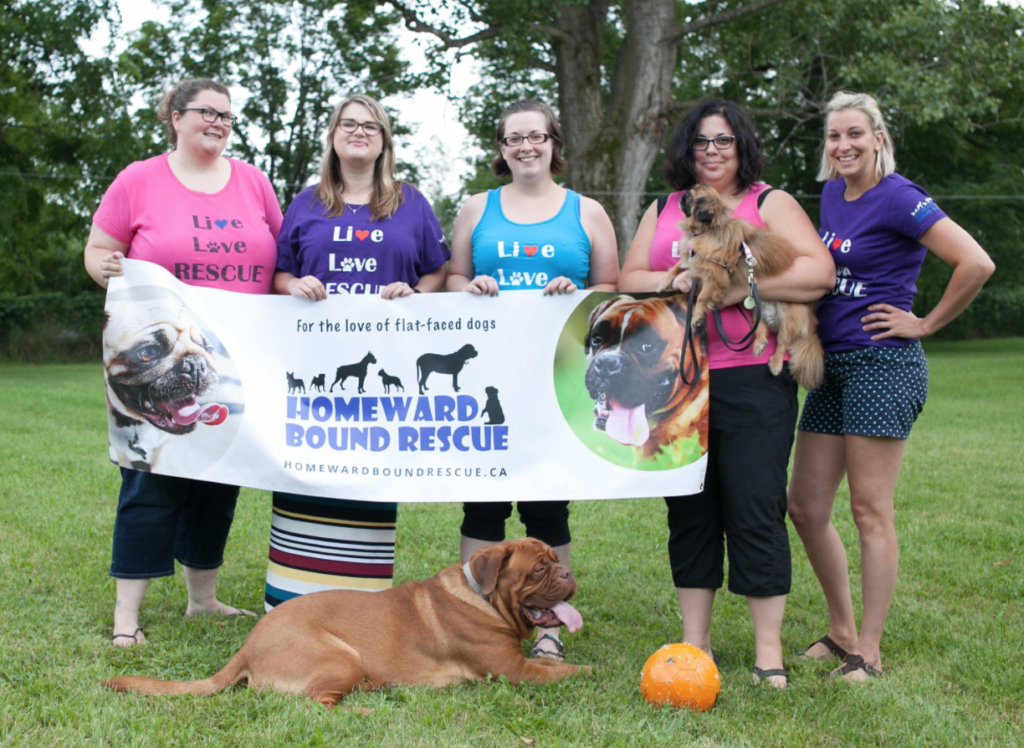 About Homeward Bound Rescue 
Homeward Bound Rescue is dedicated to the well-being of brachycephalic dogs. We do not have kennel facilities where our dogs are kept, each rescue dog lives, lovingly cared for in the home of our Fosters until their Forever Home is found. The daily operations of Homeward Bound Rescue are managed by a dedicated team of volunteers, including a Board of Directors and coordinators in the positions of integral operations such as Foster, Adoptions, Fundraising, Events, and Home Visits.
All Homeward Bound Rescue dogs are spayed/neutered, vaccinated, health checked, flea and tick prevention, dewormed (if necessary), and microchipped before adoption. All potential adopters must fill out an application, have references checked, and a home visit. Each dog has an adoption fee, which must be paid prior to the completion of the Adoption.
Homeward Bound Rescue is entirely funded by donations, which include surrender and adoption fees. All money goes toward caring for our dogs. Every donation makes a difference to us, as veterinary costs for the breeds we rescue can run very high. Our rescue dogs come from owner surrenders, puppy mills, Humane Societies, and local shelters.
While we know we can't save every one, everyone can save someone. Together, we can help to bring a dog to the loving forever home they truly deserve. There is a place at Homeward Bound Rescue for Flat Faced Dogs, and the people who love them. Consider joining us at one of our local events, or make a difference on our volunteer teams. We are always looking for energetic volunteers. Adopt, Foster, or Donate.


Mission
Homeward Bound Rescue (HBR) specializes in the care, support, fostering and adoption of brachycephalic (flat-faced) dogs. We bring them into care and lovingly prepare them for their forever home while also educating our communities on the care and support required for these amazing dogs!
Vision
Our vision is to increase knowledge and raise awareness of dog rescue and brachycephalic (flat-faced) breeds through advocacy, education and community support.
Meet Our Founder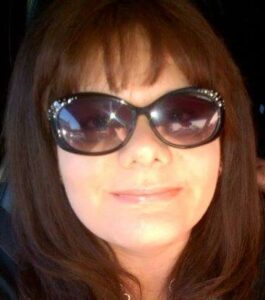 Homeward Bound Rescue came about when our founder Kathleen (Kathy) started a small-scale rescue, rescuing one to two dogs at a time. Kathy would often pay for the required vetting out of her own pocket to make sure the dogs were ready for adoption prior to heading to their forever home. 
Although Homeward Bound Rescue is a brachycephalic rescue for dogs, Kathy would never let any animal suffer and did rescue the odd goat, pig and cat!  Rescuing was certainly a family affair with her four children taking part in the many aspects of rescue.  
Anytime you would see Kathy she would always have her phone in hand answering the many emails either about taking in a dog or adopting one out. 
Sadly, Kathy passed away unexpectedly in 2014 
Kathy's spirit lives on in each and every one of us because we are doing what she loved best.. rescuing animals.
---
Meet Homeward Bound Rescue's Board of Directors
Tammy Harper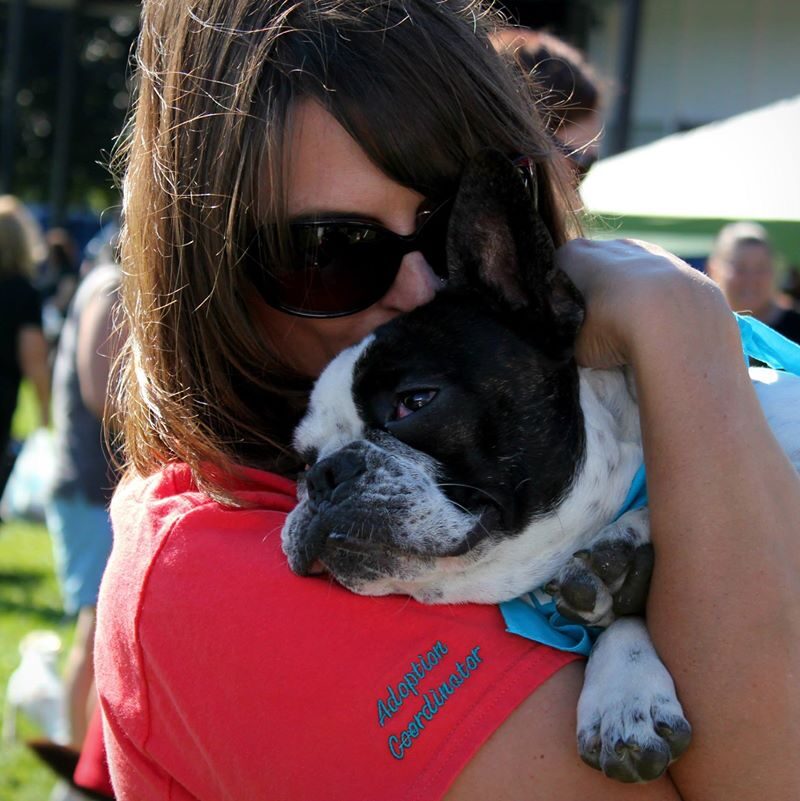 President & Adoption Coordinator
I have been with HBR since 2011 and love every minute of it. As a family, we have fostered and loved 15 dogs (and counting). I adopted my very first foster Maya- she is now 15 she came from a puppy mill and no other home was good enough for her (in my mind)! Maya is a 'Jug' (aka Jack Russell Pug Mix) and lived in deplorable conditions making money for someone having litters of puppies. In fact, when she came to us, she was still so swollen with milk! Maya had never felt the softness of grass, had yummy food from a bowl, or known what a loving hand was all about- She now knows all of these things and more!

We have added Paizley the DDB to our crew- she lived in a barn for four years of her life along with her sister Sophie (she was adopted to an amazing family and sadly has crossed the bridge. We also have Eddie whom I have had since a puppy is 17 lbs of curmudgeon like 'petbull', who is quite sure he is the boss (he really is).

Aside from the four legged members, our home consists of one human child (well she is almost 25) 'Madi' who is as much of an animal lover as her Mom, and will take part in all aspects of fostering (even when we have had sick fosters), and husband Brian, who is my biggest cheer leader when it comes to the rescue and myself. In the Harper household, it is truly teamwork that makes the 'dream work'! Being part of Homeward Bound Rescue is like being part of a big family
---
Kristi Smeets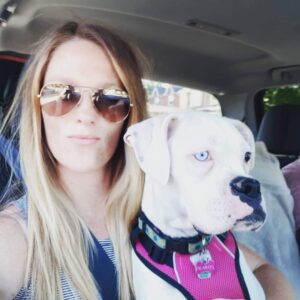 Vice-President & Foster Coordinator
My family and I have been fostering dogs for 10 years now. We got involved with HBR 6 years ago after seeing a plea for a senior Boxer pair needing a foster home. I jumped right into fostering for HBR and the love for the rescue grew so I eagerly wanted to do more.

Throughout the years, over 50 dogs have passed through our front door. Our very first dog as a family was a rescue Mastiff mix named Ivan. He is the reason we first got into rescue and he welcomed every single foster dog into our home with open paws. He was always nicknamed "Mr. Perfect".

After adopting Ivan, we permanently added another rescue dog to our family, a Boxer named Chevy. Chevy confirmed my love for Boxers and I soon became a crazy Boxer person! He was my heart dog, my best friend. While Chevy was a little pickier than his fur-brother with our foster guests, he always enjoyed the company of any and all puppies that came into care. Chevy became the HBR foster mom!

While both of our boys have passed on, I will continue to rescue and work my hardest to save more lives in their honor. With a couple new members that have joined our family, 2 Boxers – Scarlet and Arlo, we will keep on doing what we do – rescue and FOSTER! Our family is a busy one – with three small human boys, they always take a part in fostering, helping with events or doing transports together. I also have a wonderful, supportive husband who never bats an eye when helping me with anything rescue related. Everything HBR is part of our family and it's what we do. Until there are none, rescue one!
---
Tanya Schick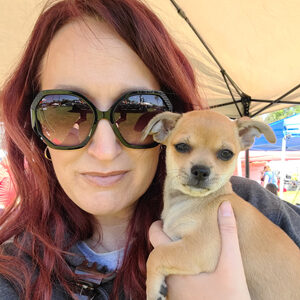 Board Member, Secretary, Lead Transportation Coordinator, and Assistant Foster Coordinator
I have always had a love of animals, I was raised with dogs, cats and spent a lot of time at my grandparents farm around horses, cows, pigs and chickens! In 2019 an opportunity to join the rescue as a transport coordinator came up and I jumped on it, with a background in shipping this made sense. I can get you from A to B with stops in between and even can give estimates on drive time, living in Toronto I know and understand traffic!

My heart gravitates to the big dogs, I was raised around Shepherds and my husband and I had a Rottweiler. After my Rott passed away we were able to assist with short term fostering, my 4 cats are not in agreement, haha. We have had a few fosters come through our doors, one of our cats, Sookie, makes sure that when the dogs leave they know to respect cats!
I have since become a foster coordinator and then I joined the Board of Directors.

In our house, we all help in one way or another. My husband does tend to say "wait, what" when I casually mention we have a dog coming in for a quick overnight, short term stay or going to pick up a dog in need.

Being involved in the rescue has allowed me to see where my heart needed to be, to help those that cannot speak for themselves.
---
Shannon Long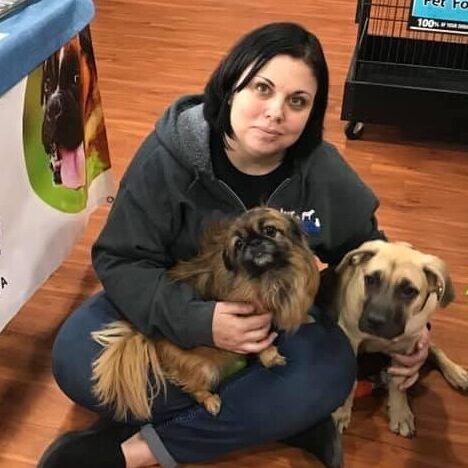 Board Member/Events Coordinator
From Toy Poodles to Dobermans, dogs have always been a part of my life. I used to say that if I didn't have to work, I would volunteer for an animal shelter or rescue. In 2015, with a maturing family, I asked myself – "Why not both?"
At that time, I was a dog mom to a Shih Tzu, and paired with very fond memories of a pug from my childhood, I decided to join Homeward Bound Rescue, because I too love flat faced dogs!
I first started helping with Events and eventually became an Events Coordinator. I love meeting people at the various functions and telling them about all the great work HBR does! I also love planning and executing HBR's annual Canine Carnival with our amazing Events Team. Over the years, the volunteers on that team have also become some of my closest friends. Canine Carnival features vendors, food, games, demonstrations, and activities for the whole family- both two and four-legged! It grows bigger and better every year!
In addition to Events, I have helped with transports, phone interviews and home visits. My family and I have fostered several HBR dogs and adopted 2. Sophie, the sweetest little Pekingese X (who has crossed the rainbow bridge) and Mastiff X Stella, who is the most loving dog I have ever known and my favourite walking buddy.
Rescue has truly become my passion and I am grateful to so many of my friends and family who support that passion by regularly donating their time, resources, and talents. As I now say, my day job fills my bank account, but rescue fills my soul.
---
---
We rescue dogs, what's your Superpower?
Consider joining our team!