HBR relies solely on public donations, 100% of which goes directly towards the dogs in our care.
Seldom do we take in a dog who requires no medical care. When we take in a dog, we take on the responsibility of their medical needs as well as their daily care. Caring for a pet can be a costly venture, and every dog lover needs to be prepared for a health crisis. In rescue, as in life, there are no guarantees.
The average food and medical costs for a dog in care, may range from $60-$100, depending if there are ongoing medications or a particular diet such as 'Raw' food.
Vetting costs on intake may be particularly high, due to urgent medical needs, untreated or neglected conditions. According to the Ontario SPCA, the average cost of dog ownership is $2900 in the first year, which includes spay/neuter, deworming, heart worm treatment and all necessary vaccinations (from
ontariospca.ca
) While many of our dogs are adults when they come into care, they have often had lapsed care of preexisting conditions or neglected care, which drives up veterinary care costs considerably.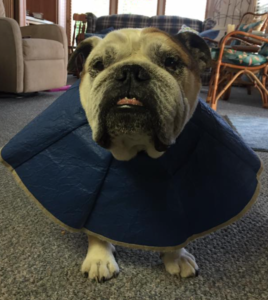 Our vetting service partners often provide a slight discount to rescues, but spay surgery alone can range up to 
$600, for a mature dog. To give you an idea, the average costs of common ailments such as 'C
herry Eye' is 
$2500, and the amputation of an infected 'corkscrew tail' (depicted here, following repair) begins at $1000, without any additional infection issues.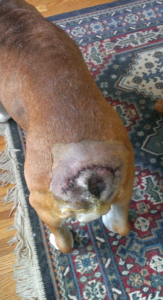 Spending  $1000 or more on a bulldog, while taking in average adoption fees of much less, is not uncommon for us. We want to keep our adoption fees low enough to encourage families to adopt our available dogs, but we rely on donations to actually pay the bills and to allow us to save dogs in need. Every donation over $20 receives a tax receipt. Even small donations make a big difference to a dog in care. Every dog deserves to be both healthy and happy.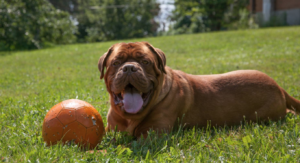 Donate now through Canada Helps
---
Our rescues often start from scratch. In terms of crucial supplies, HBR is thankful to receive any donations received through our Amazon Wish List.
---
The following items help the volunteers that transport our dogs to their foster and forever homes:
Crates
Leashes
Collars
Beds
Gas cards
Canadian Tire Money
Please email [email protected] if you would like to arrange a pickup of items to be donated.
---
donations made by cheque can be sent to:
P.O Box 256
Brights Grove, ON
N0N 1C0
Our Charitable registration number is 837184779 RR0001. Any donations over $20 Canadian will receive a tax receipt.
---
Thank you to those who help!
Please support these businesses who currently help us on an ongoing basis:
If your business would like to sponsor one of our dogs
or support us by donating goods/services, please contact us at